Your Trusted Plumber for the Southern Suburbs of Adelaide
All plumbing services – domestic and commercial
Plumbing services you can rely on
When South Adelaide residents have a plumbing issue, they call Responsive Plumbing & Gas to get their problem solved. Along with 24/7 emergency plumbing, we aim for same-day service wherever possible. We know the stress and hassle of a major plumbing problem and want to help you sort things out as soon as possible.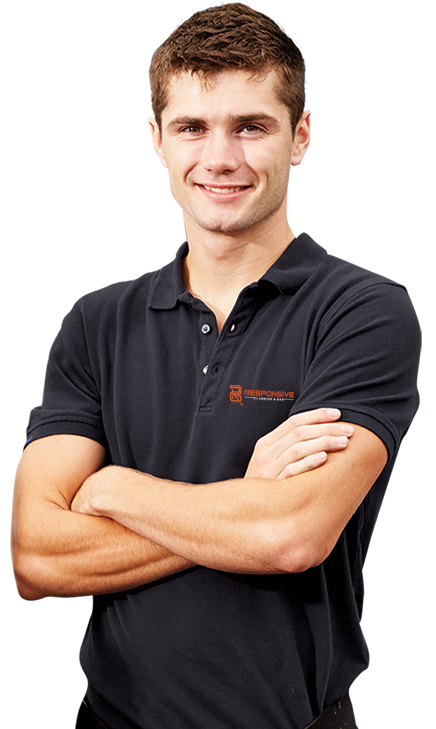 Services without surprise fees
We pride ourselves on being upfront and honest with all our clients. When you call Responsive Plumbing & Gas, we provide rough pricing over the phone and will always inform you of potential fees in the case of emergencies.
We know that some plumbing problems, while not an emergency, can still be a big hassle. That's why, whenever possible, we'll attend your residence the same day you call.
Some of our clients have had negative experiences with plumbers when it comes to pricing. Responsive Plumbing & Gas are different. When we carry out works, we will keep you informed every step of the way so that you won't end up with any surprise extra costs.
Our expert team are ready to help
Major and minor plumbing services
Responsive Plumbing & Gas is a team of five plumbers headed by master plumber Tom.
With expert knowledge of domestic and commercial plumbing and a particular specialisation, each member of our team is well suited to the needs of different clients. And with our hydro jet and CCTV technology, we can resolve most problems quickly and efficiently, saving you time and trouble.
Thanks to our expertise and access to modern equipment, we can offer various plumbing services to all our South Adelaide clients, both commercial and residential. Check out some of our services below.
Emergency plumbing Adelaide
We're here for you in an emergency. Our team of experienced plumbers are on hand to help you with any plumbing emergency in domestic and commercial settings. From overflowing stormwater to burst pipes and blocked toilets, we're always ready to help.
A blocked drain may be a nuisance, but you shouldn't ignore them. A slow-draining or completely blocked drain needs to be fixed as soon as possible, or it may start to affect other plumbing in your home.
We have the tools and techniques to fix this problem quickly, including CCTV cameras and thorough inspections to ensure that the problem is solved once and for all.
Professional and reliable gas fitting services are essential for any homeowner. Malfunctioning gas appliances aren't only a nuisance; they also pose a safety risk. That's why it's essential to call a licensed gas fitter, like Responsive Plumbing & Gas, if you suspect any problems.
We offer various gas fitting services, including:
installation, maintenance, and repair of gas appliances and hot water systems
carbon monoxide testing
gas leak detection
conversion of LPG to natural gas and vice-versa
emergency response
Does your hot water system need maintaining or replacing? We can help. We will always find you the longest lasting and most cost-effective solution – whether that's repairing your existing system to save the cost of a new one, replacing your hot water system to prevent more costly issues.
We supply a range of high quality hot water system brands in gas, solar, and electric.
Hot water repairs Adelaide
Hot water issues are common but can be highly disruptive. We provide emergency and same day hot water repairs on a wide range of systems, including gas, solar, and electric.
Electric hot water systems
Do you need your electric hot water system installed, repaired, or replaced? We can help. With many years of experience with hot water systems, we will advice and assist with installation, removal, and maintenance of electric systems, no matter the brand.
Adelaide residents enjoy the benefits that efficient and environmentally friendly solar hot water brings to the home. Whether you have a current solar system or are looking to switch, our team can answer all your questions and provide an accurate quote for your solar hot water.
There's nothing more frustrating than a leaky tap or a slow-draining sink. Many homeowners fix these problems themselves only to find them reoccur a few days or a week later. For a real, permanent solution, contact us today.
You may be surprised to learn that a smelly drain can be caused by more extensive problems, such as tree roots or cracked pipes. We have helped clients across South Adelaide repair smelly drains and prevent the stench from returning.
A blocked or leaking toilet can pose big problems in both homes and workplaces. For toilet problems that need immediate attention, Responsive Plumbing & Gas can assess and repair your toilet on the same day.
With the potential for leaky plumbing to lead to structural damage, it's important to get this problem dealt with quickly and professionally. If you aren't sure where the leak is coming from, don't worry. We are skilled at finding and repairing hidden leaks, no matter how small, and helping you avoid bigger repairs down the line.
Sit back and enjoy your new dishwasher with our professional installation service. With specific rules and regulations around your dishwasher's electrical and plumbing installation, it's always best to get a professional in to help.
Our team will ensure your new dishwasher meets regulations and will test your appliance before you use it so that you have total peace of mind.
Our experienced team are ready to assist